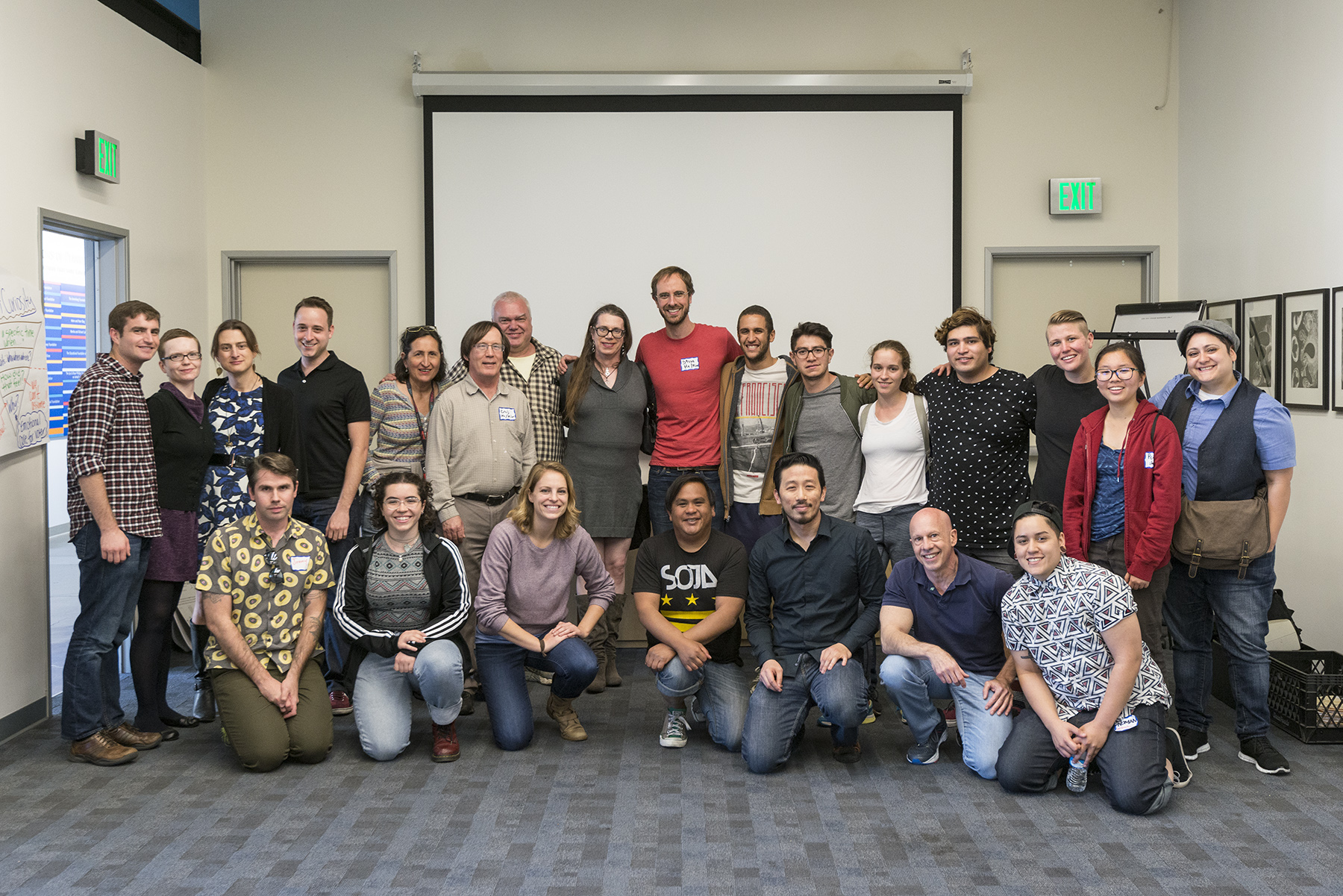 We're excited to announce that we are seeking candidates for a unique and exciting opening on our team! 
The LAB is currently accepting applications for the full-time position of Field & Media Organizer. This role on our staff entails a unique combination of social justice organizing and media production and represents a unique opportunity for applicants who are motivated to do impactful, creative work in both realms.
Our mission is to build big teams and empower them to defeat anti-LGBT prejudice, as well as other forms of stigma, both locally in Los Angeles and on the ground across the nation – wherever communities are facing attacks at the ballot box. Since 2009 our staff and large team of local volunteers have been canvassing (talking to voters door to door) regularly across Los Angeles County in neighborhoods where most people remain unsupportive of LGBT rights. Together we have developed new ways to to have emotional, personal conversations that have the power to reduce transphobia and homophobia and secure newfound support among voters (see video of one of our conversations here) and we have helped campaigns across the US put these tools to use when they're needed most.
Recently, a study about the impact of our model was published in the journal Science and received significant media attention, so you can read this New York Times Magazine profile to find out more (additional coverage here).
Unusually, the LAB also trains volunteer videographers to record many of our conversations with voters in the field. In addition, we produce original video content in order to pilot different approaches to voter education through mass media. The Field and Media Organizer's primary role will be to lead each of those media-related projects as well as to share responsibility for the team's organizing efforts overall.
Qualified candidates will have demonstrable experience with and enthusiasm for video production and post-production. They will also have a robust appetite for engaging in conversation with a diverse variety of voters, both in person and over the phone, as well as recruiting face to face, and building relationships with, a diverse variety of volunteers. Candidates will be called on to train and develop leadership capacity in others as well as rely on, and be relied on, as part of a heavily collaborative team. All are welcome and we particularly encourage transgender, gender non-conforming, or genderqueer individuals, as well as people of color, to apply.
The official posting can be found here.
Our goal is to establish a pool of finalists by July 7th. To apply send a cover letter and resume to Steve Deline at [email protected] If you have questions about the position or would like more information, please reach out to Steve as well. We look forward to hearing from you!
Steve and the Leadership LAB Team