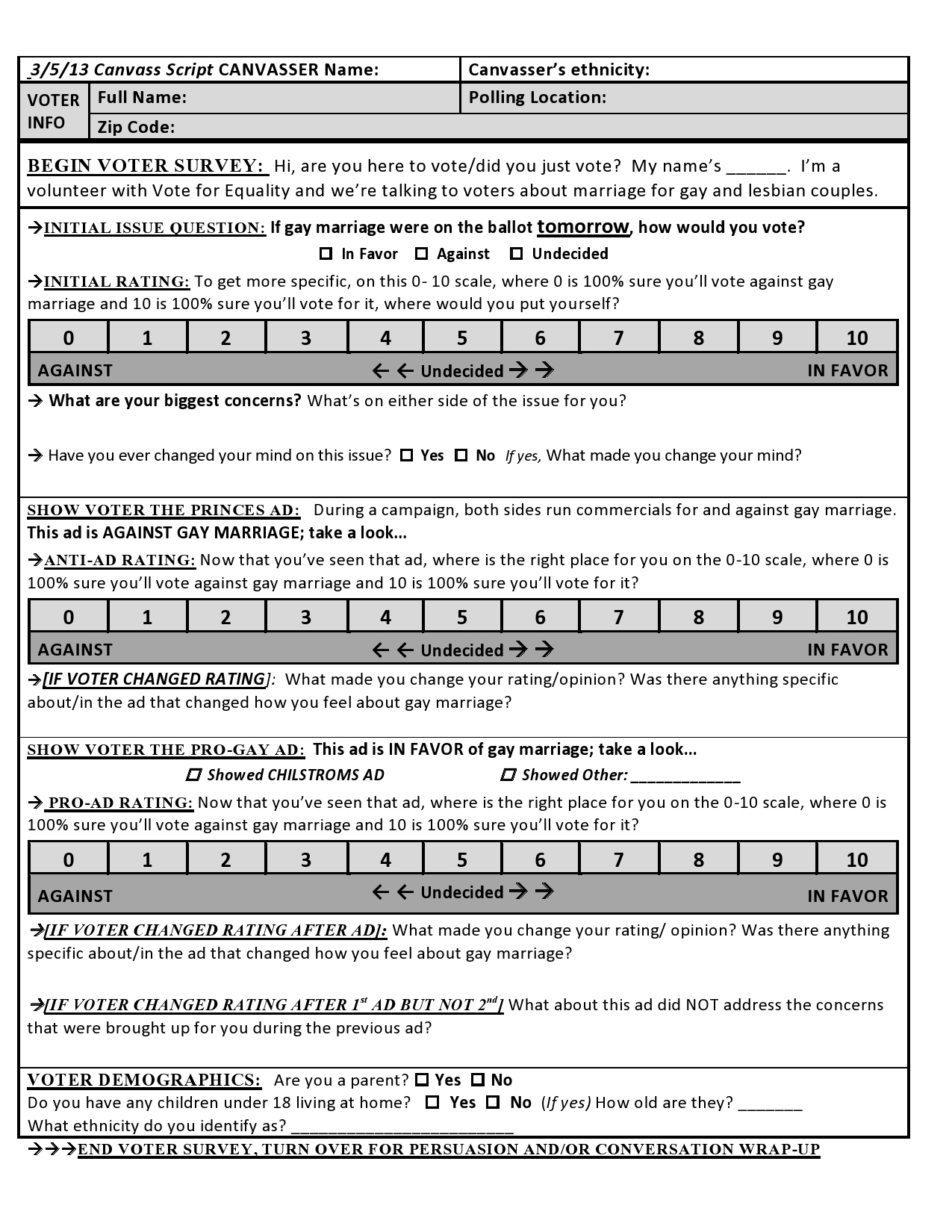 In January 2009, in the immediate aftermath of Prop 8, Leadership LAB staff and volunteers set out to develop a new way to talk to voters.  Faced with our community's 32nd straight electoral loss on same-sex marriage, we were determined to find a way to not only win voters' support but dismantle the prejudice that so often underpins their opposition.
Four and a half years, 67 persuasion canvasses, and 13,885 face-to-face conversations later we had discovered something remarkable: with a big team, a lot of support, and careful preparation, nearly anyone can spend fifteen minutes connecting authentically with a voter and change the way that voter feels about (and votes on) LGBT people in a profound and lasting way.
But it took a great deal of work to get there. The path to having these conversations was littered with pitfalls, and we fall into most of them first before we could learn to avoid them. Below is a record of that journey: every one of the nearly 90 scripts that we tried, revised or discarded, edited, and evolved through along the way. As we work hard to start that learning process anew on new issues and other forms of prejudice, we're thrilled to look back and learn from we've been!
January 17th, 2009

Test Script 1 – Front

January 17th, 2009

Test Script 1 – Back

January 17th, 2009

Test Script 2 – Front

January 17th, 2009

Test Script 2 – Back

January 17th, 2009

Talking Points

February 14th, 2009

Front

February 14th, 2009

Back

February 14th, 2009

Talking Points

March 7th, 2009

March 21st, 2009

March 21st, 2009

Talking Points

April 11th, 2009

April 11th, 2009

Talking Points

May 9th, 2009

May 9th, 2009

Spanish

May 31st, 2009

June 20th, 2009

June 20th, 2009

Spanish

July 11th, 2009

July 11th, 2009

Spanish

July 26th, 2009

July 26th, 2009

Spanish

August 15th, 2009

August 15th, 2009

Spanish

August 15th, 2009

Donation Rap

August 29th, 2009

Spanish

August 29th, 2009

Donation Rap

September 19th, 2009

September 19th, 2009

Donation Rap

September 19th, 2009

Spanish

September 26th, 2009

September 26th, 2009

Donation Rap

September 26th, 2009

Spanish – Front

September 26th, 2009

Spanish – Back

October 10th, 2009

October 10th, 2009

Donation Rap

October 10th, 2009

Spanish

October 17th, 2009

October 17th, 2009

Donation Rap

November 14th, 2009

November 14th, 2009

Spanish

January 23rd, 2010

January 23rd, 2010

Spanish

January 30th, 2010

Front

January 30th, 2010

Back

February 27th, 2010

Front

February 27th, 2010

Back

February 27th, 2010

Spanish – Front

February 27th, 2010

Spanish – Back

March 13th, 2010

Front

March 13th, 2010

Back

March 27th, 2010

Spanish – Front

March 27th, 2010

Spanish – Back

April 24th, 2010

Front

April 24th, 2010

Back

April 24th, 2010

Spanish – Front

April 24th, 2010

Spanish – Back

May 8th, 2010

Front

May 8th, 2010

Back

May 22nd, 2010

Front

May 22nd, 2010

Back

May 22nd, 2010

Spanish – Front

May 22nd, 2010

Spanish – Back

June 5th, 2010

Front

June 5th, 2010

Back

July 10th, 2010

Front

July 10th, 2010

Back

July 31st, 2010

Front

July 31st, 2010

Back

July 31st, 2010

Spanish – Front

July 31st, 2010

Spanish – Back

September 25th, 2010

Front

September 25th, 2010

Back

September 25th, 2010

Spanish – Front

September 25th, 2010

Spanish – Back

October 23rd, 2010

Front

October 23rd, 2010

Back

October 23rd, 2010

Spanish – Front

October 23rd, 2010

Spanish – Back

November 2nd, 2010

Front

November 2nd, 2010

Back

November 13th, 2010

Ad-Testing Script – Front

November 13th, 2010

Ad-Testing Script – Back

November 13th, 2010

Front

November 13th, 2010

Back

January 15th, 2011

Front

January 15th, 2011

Back

January 15th, 2011

Spanish – Front

January 15th, 2011

Spanish – Back

January 15th, 2011

Mandarin – Page 1

January 15th, 2011

Mandarin – Page 2

January 29th, 2011

w/ Video – Front

January 29th, 2011

w/ Video – Back

January 29th, 2011

Spanish – Front

January 29th, 2011

Spanish – Back

January 29th, 2011

w/o Video – Front

January 29th, 2011

w/o Video – Back

January 29th, 2011

Spanish – Front

January 29th, 2011

Spanish – Back

February 12th, 2011

Front

February 12th, 2011

Back

February 12th, 2011

Spanish – Front

February 12th, 2011

Spanish – Back

February 12th, 2011

Front

February 12th, 2011

Back

February 12th, 2011

Spanish – Front

February 12th, 2011

Spanish – Back

March 19th, 2011

Front

March 19th, 2011

Back

March 19th, 2011

Spanish – Front

March 19th, 2011

Spanish – Back

March 19th, 2011

Mandarin – Page 1

March 19th, 2011

Mandarin – Page 2

March 19th, 2011

Front

March 19th, 2011

Back

March 19th, 2011

Spanish – Front

March 19th, 2011

Spanish – Back

March 19th, 2011

Mandarin – Front

March 19th, 2011

Mandarin – Page 2

April 16th, 2011

Front

April 16th, 2011

Back

April 16th, 2011

Spanish – Front

April 16th, 2011

Spanish – Back

April 16th, 2011

Front

April 16th, 2011

Back

April 16th, 2011

Spanish – Front

April 16th, 2011

Spanish – Back

June 18th, 2011

Front

June 18th, 2011

Back

June 18th, 2011

Spanish – Front

June 18th, 2011

Spanish – Back

July 9th, 2011

Front

July 9th, 2011

Back

August 20th, 2011

Front

August 20th, 2011

Back

August 20th, 2011

Spanish – Front

August 20th, 2011

Spanish – Back

August 20th, 2011

Kids Talking Points

August 20th, 2011

Kids Talking Points – Spanish

April 14th, 2012

Front

April 14th, 2012

Back

April 28th, 2012

Front

April 28th, 2012

Back

May 12th, 2012

Front

May 12th, 2012

Back

June 2nd, 2012

Front

June 2nd, 2012

Back

June 20th, 2012

Front

July 20th, 2012

Back

July 21st, 2012

Front

July 21st, 2012

Back

August 4th, 2012

Front

August 4th, 2012

Back

March 5th, 2013

Front

March 5th, 2013

Back

April 6th, 2013

Front

April 6th, 2013

Back

April 6th, 2013

Conversation Supplement – Front

April 6th, 2013

Conversation Supplement – Back

April 27th, 2013

Front

April 27th, 2013

Back

May 11th, 2013

June 1st, 2013

June 15th, 2013

June 15th, 2013

Mandarin – Front

June 15th, 2013

Mandarin – Back

June 29th, 2013
out